Middle Eastern Food

Mediterranean Origin Healthy Natural Dairy Products and Middle East Specialty Cheeses Remember their Roots
KARLACTI Authentic Handmade Specialty Cheeses
All Natural Mediterranean Specialty Foods
| | | | |
| --- | --- | --- | --- |
| Home | | Armenian Cheese | |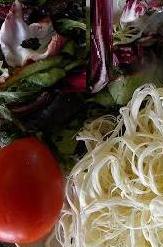 Armenians have produced cheese for thousands of years.

The home cheese making traditions were passed on from generation to generation.

Armenian string cheese is a pasta filata similar to mozzarella: the fresh, soft curd is pulled to create long strands.

For KARLACTI string cheeses, the curd is seasoned with mahleb, a Middle Eastern spice made from ground sour cherry pits, and nigella seeds (also known as black cumin or black caraway), which impart a peppery, slightly bitter flavor.

The curd is pulled into a long loop, twisted and stretched numerous times to create the stringy texture. The loop is then twisted tightly and knotted to form a compact shape called a braid.

Middle Eastern Specialty cheese dairy products company, Karlacti, Inc. is rooted in its Armenian Middle Eastern food culture authentic historic heritage and 80 years of pioneering history of its licensor, a world famous Mideastern cheese and dairy products company.

Ara Baghdassarian continues the path drawn by his father, Ohannes Baghdassarian. He preserves the historical Armenian heritage of the Baghdassarian family by producing authentic all natural specialty cheeses specialty artisan cheese, Armenian cheese.

All our products are certified by Dairy Management Inc. with the Real Seal of the United Dairy Industry Association.

E-mail:
contact@karlacti.com
Tel:
703-647-9589

Wholesale Only
Copyright © KARLACTI, INC. 2008-2016 All Rights Reserved
4AB CONSULTING