Middle Eastern Food

Mediterranean Origin Healthy Natural Dairy Products and Middle East Specialty Cheeses Remember their Roots
KARLACTI Authentic Handmade Specialty Cheeses
All Natural Mediterranean Specialty Foods
KARLACTI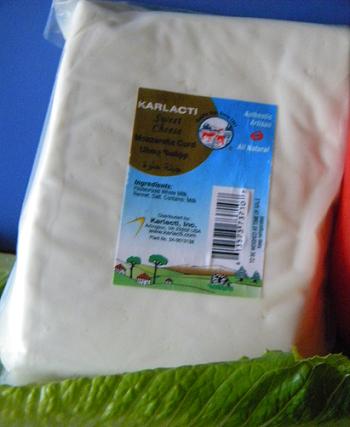 Mozzarella Curd
Low salt, mild tasting and soft similar to Mozzarella, it melts well.

It is ideal for use in all kind of desserts and greatly appreciated in preparing

Middle Eastern desserts Kunafa-bil-Jibn and Halawat-el-Jibn.
Vacuum Pack -

To be

weighed at time of sale – SKU 73710
Middle Eastern Specialty cheese dairy products company, Karlacti, Inc. is rooted in its Armenian Middle Eastern food culture authentic historic heritage and 80 years of pioneering history of its licensor, a world famous Mideastern cheese and dairy products company.

Ara Baghdassarian continues the path drawn by his father, Ohannes Baghdassarian. He preserves the historical Armenian heritage of the Baghdassarian family by producing authentic all natural specialty cheeses specialty artisan cheese, Armenian cheese, Mediterranean cheese, Mideastern cheese, specialty Middle Eastern dairy products and natural cheese and dairy food products.

KARLACTI traditional quality Mediterranean dairy products and large variety of handcrafted authentic Middle Eastern specialty all natural artisan cheeses and low salt yogurt drink do not contain any additive.

Our Mediterranean specialty food cheese and dairy products are free of thickeners, stabilizers, added proteins, gluten and starch.

Karlacti specialty cheeses are produced according to genuine traditions and rigorous quality standards for your health.


All our products are certified by Dairy Management Inc. with the Real Seal of the United Dairy Industry Association.

E-mail:
contact@karlacti.com
Tel:
703-647-9589

Wholesale Only
Copyright © KARLACTI, INC. 2008-2016 All Rights Reserved
4AB CONSULTING